The Gift of Life
In Him Was Life
Text. John 1:4 In him was life; and the life was the light of men.
It's Christmas Day – many of our fellow reformed believers do't celebrate 'Christmas' in any form – there is after all, no direct command to do so in the Bible, – we are commanded to remember Christ's death, not his birth. I agree, so while I don't mind having an extra meeting on December 25th, or to sing praises about the incarnation, I keep it very low key, to use it as an occasion to declare the historical virgin birth of Christ – after all, Luke roots the birth of Jesus in history, when he tells us exactly when it happened, 'And it came to pass in those days, that there went out a decree from Caesar Augustus that all the world should be taxed. 2 (And this taxing was first made when Cyrenius was governor of Syria.) 3 And all went to be taxed, every one into his own city. 4 And Joseph also went up from Galilee, out of the city of Nazareth, into Judaea, unto the city of David, which is called Bethlehem; (because he was of the house and lineage of David:)' Luke 2:1-4. So we don't have any Christmas Tree, or candles or any of the worldly trappings of the season – and, as you probably already know, we certainly don't have a Santa! But we do have something really important to celebrate, – the fact with when Jesus came into this world he came to bring us LIFE! I wonder are you a fan of Boney M? They were a popular singing group, back in the 1970s, and they achieved fame with their song, "By the Rivers of Babylon." But they also sand "Mary's Boy Child." It's not too bad, from a Christian perspective. "Long time ago in Bethlehem, so the Holy Bible says, Mary's boy child, Jesus Christ, was born on Christmas Day. Hark now hear the angels sing, a king is born today, and man shall live for ever more, because of Christmas Day."
I wish they were still singing that today. It's a great message, Jesus was born to give us life, and not just life in this world, but eternal life, life that will go on for ever. Man shall live FOREVER MORE because of Christmas Day.
Listen to this as a PODCAST. CLICK HERE.
So let's think about the life that Jesus gives us… Ive got three points with groaningly torturous alliteration…
1. Copious Life. John 10:10 I am come that they might have life, and that they might have it more abundantly.
What's different about the Christian life, and the life of everyone else? We talk sometimes about a person's 'quality of life.' Are they able to enjoy their lifestyle, to get out and about, to make friends and be happy. That applies to everyone. But a Christian is different. The believer has had a New Birth, God has regenerated us, and given us a new heart. It is abundant life!
Now of course, that's not a promise of wealth. I know that there are people who believe that faith in Christ will bring them expensive cars and mansions, and debt free lives. I visited a woman in Newtownards one day, a woman who had spend quite a few years in poor circumstances, skrimping and saving, trying to feed her family. On her coffee table was the book she was reading, a motivational book by a health and wealth teacher, a man called Charles Capps. I picked it up and explained to her that Jesus didn't die to solve your financial difficulties. That takes some work. She was visibly distressed. She told me that she was depending on the 'prayer techniques' in that book, to sort out her life…
There are humble saints with nothing, who have abundant life in Christ, because that new birth that they have experienced has brought them into a living relationship with God, and they have the peace of God, dwelling in their heart, peace that passes all understanding. Real life is knowing Jesus, being recreated, being what we were meant to be.
2. Ceaseless Life. John 3:16 For God so loved the world, that he gave his only begotten Son, that whosoever believeth in him should not perish, but have everlasting life.
For two years now we have been living with Covid 19, that mysterious flu-like illness that originated in China in 2019. We have underwent lockdowns, social distancing, hand sanitising, mask wearing, novel injections … people are confused and afraid. In a TV news interview that I heard during the pandemic, a teenage girl was interviewed and asked why she was queuing for an injection. She replied, "I just don't want to live in a world where people, like, PASS AWAY…". That was a very telling remark. Accidentally, she had spoken the truth. We live in a world where people die! It's been happening from the beginning of time. People try not to think about it, but the daily death-count of Covid victims on the news has kept our inevitable death right before us…. And we are terrified. But Jesus came to give us ETERNAL LIFE. As Boney M sang, "Man shall live for ever more, because of Christmas Day."
The Christian knows that even when this life ends, our fellowship with God is complete, and we will live forever. Jesus said, in John 10:28 And I give unto them eternal life; and they shall never perish, neither shall any man pluck them out of my hand. Eternal life begins when we put our faith in Jesus and continues after our physical death, a never ending relationship with God, through Christ.
3. Costless Life. Romans 6:23. …the gift of God is eternal life through Jesus Christ our Lord.
Ok, that really is a poor alliteration. It COST a great price, but not to us. For us it is is a GIFT. We can't earn this eternal, abundant life, and we don't deserve it, yet we can't afford to be without it. There was a man who came to Jesus and asked how he could get to deserve eternal life. Matthew 19:16. Good Master, what good thing shall I do, that I may have eternal life? Jesus warned him that to earn eternal life would require being perfect, keeping the commandments, perfectly, which none of us are capable of. We are lost, forever. But wait! God sent His own Son into this world, to perfectly fulfil the law for us, to live for us and to die for us, so that we can have this eternal life – as a free gift.
On Christmas morning, when you receive a gift from someone who loves you, you don't ask how much you must pay, or for an explanation of how you have deserved it.  You simply stretch out your hand and receive.  The price has been paid, the gift is offered, you gratefully accept and say thank you.    The gift of life, abundant life, eternal life, is offered to us all this Christmas morning. Let us joyfully receive it!  
THANKS BE TO GOD FOR HIS UNSPEAKABLE GIFT!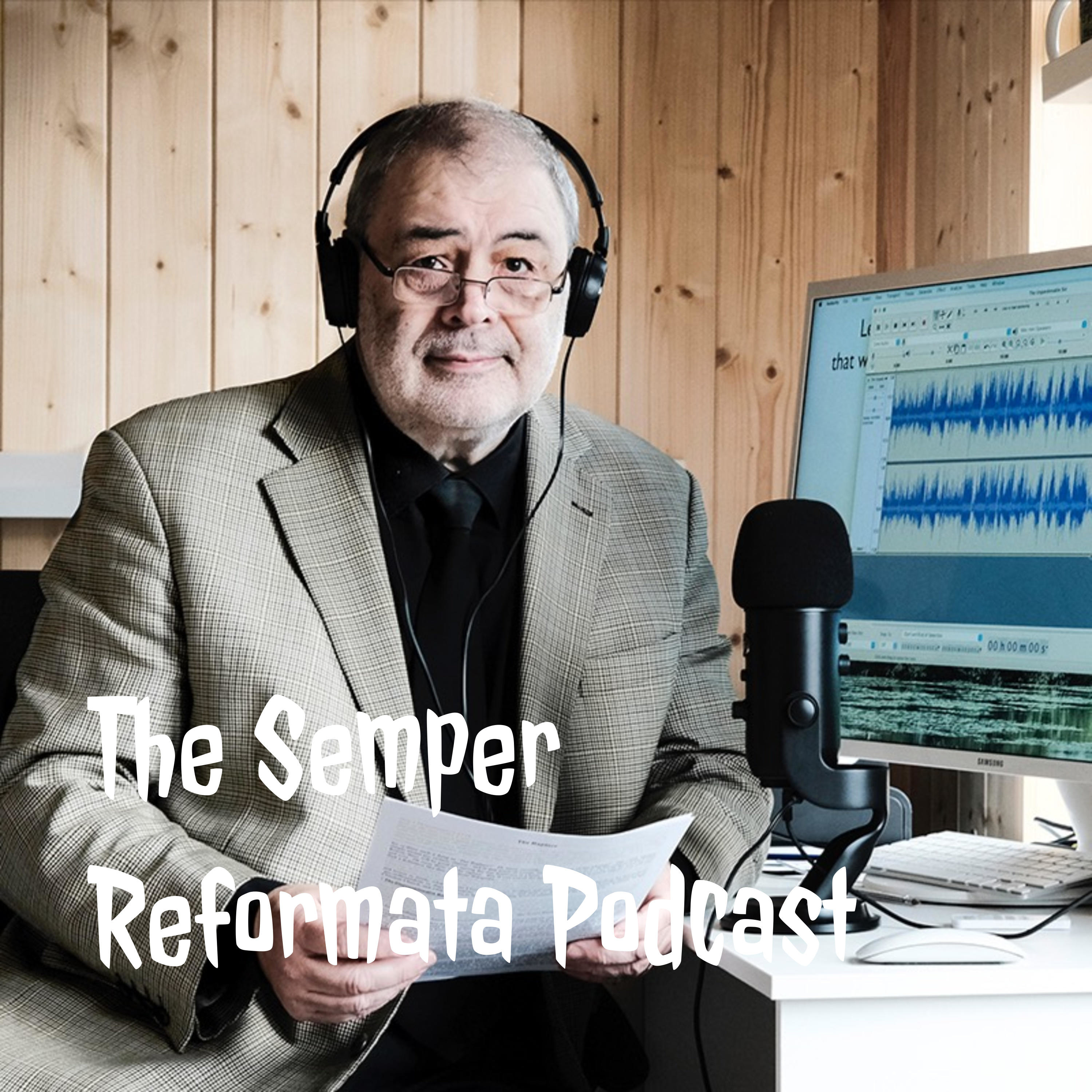 Catechism Class: LD28 Q76, Spiritual or Physical Flesh and Blood?
–
The Semper Reformata Podcast
Catechism Class. Lord's Day 28 Q76 – Spiritual or Physical Flesh and Blood??We are looking at the Lord's Supper and we move on to Lord's Day 28, Q76, where the catechist asks us, What does it mean to eat the crucified body of Christ and to drink his shed blood? Our reply should be…First, to accept with a believing heart all the suffering and the death of Christ, and so receive forgiveness of sins and life eternal. Second, to be united more and more to his sacred body through the Holy Spirit, who lives both in Christ and in us. Therefore, although Christ is in heaven and we are on earth, yet we are flesh of his flesh and bone of his bones, and we forever live and are governed by one Spirit, as the members of our body are by one soul. So, in this lesson, we want to think about the words of our Lord Jesus, when he said, in John 6:54-56 Whoso eateth my flesh, and drinketh my blood, hath eternal life; and I will raise him up at the last day. 55 For my flesh is meat indeed, and my blood is drink indeed. 56 He that eateth my flesh, and drinketh my blood, dwelleth in me, and I in him. Let's ask the question, What does it mean to eat the crucified body of Christ and to drink his shed blood? Hosted on Acast. See acast.com/privacy for more information.